Serving Ideas
Price List
Nutrition
WHERE TO FIND US IN 2019
These are some of Western Canada's finest Craft Shows and Wine Events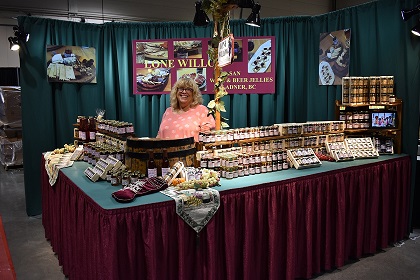 ---
THANKS TO OUR MANY CUSTOMERS FOR A GREAT 2018 SEASON
2019 dates are being posted as we receive them
June 1, 2019, Kamloops Wine Festival, "CONSUMER TASTING", Kamloops Convention Centre
Saturday 7:30-10 pm
So sorry, we are not attending the Wine Fesival in 2019
---
October 4, 2019,"GARLIC FESTIVAL", Hester Creek Estate Winery, Oliver, BC
Saturday 11-4
---
October 18-20, 2019, "Fall Into Christmas", Exhibition and Stampede, Medicine Hat, Alberta
Friday 10am-9pm, Saturday 10am-6pm and Sunday 10am-5pm
---
October 25-27, 2019, "OUR BEST TO YOU", Westerner Park, Red Deer, Alberta
Friday 10am-9pm, Saturday 10am-6pm and Sunday 10am-5pm
---
November 3, 2019, "SAINT THOMAS AQUINAS", North Vancouver, BC
Sunday 10-4 This will be our 25th year at St. Thomas Aquinas
www.aquinaschristmascraftfair.weebly.com/

---
November 7-10, 2019, "FESTIVAL OF CRAFTS", BMO Centre, Calgary, Alberta
Thursday,Friday 10am-9pm, Saturday 10am-6pm, Sunday 10am-5pm
---
November 7-11, 2019, "CIRCLE CRAFT CHRISTMAS MARKET", Vancouver Trade and Convention Centre, Vancouver, B.C.
Wednesday to Friday 10am-9pm, Saturday 10am-7pm, Sunday 10am-5pm
---
November 15-17, 2019, "WEST COAST CHRISTMAS SHOW", Tradex, Abbotsford, B.C.
Friday 2pm-9pm, Saturday 10am-6pm, Sunday 10am-5pm
www.westcoastchristmasshow.com
---
November 22-24, 2019, "OUT OF HAND", Crystal Garden, Victoria, B.C.
Friday 11am-7pm, Saturday 11am-5pm, Sunday 11am-4pm
---
November 28-30-December 1, 2019, "BUTTERDOME CRAFT FAIR", University of Alberta, Edmonton, Alberta
Thursday, Friday 10am-10pm, Saturday 10am-6pm, Sunday 10am-5pm
---