Home
About Us
Products
Serving ideas
Shop
Nutrition
Please be creative with our products and let us know what you did, we're always looking for more ideas!
---
BREAKFAST SUGGESTIONS/RECIPES
Jelly;
On toast, any Lone Willow jelly is a great way to start your day!
On a toasted roll or fresh baguette with some creamy brie or goat cheese!
PORT WINE JELLY GRANOLA CRUMBLE

1/2 cup margarine
1/4 cup brown sugar, packed
1 cup flour
1 cup granola or similar cereal
1/4 tsp baking soda
1 jar Lone Willow Port wine jelly (125ml)
Preheat oven to 400F. Cream margarine and sugar until light and fluffy. Add soda and flour and mix. Stir in granola. Take 3/4 of the mixture and press it into an 8 inch well greased square pan. It will be quite thin, about 1/4 inch or less. Open the jar of wine jelly and break it up with a fork. Spread the whole jar over the pressed mix up to 1/8 inch from the sides. With your fingers, crumble the remaining dough over the jelly. Bake for 17-20 minutes, until the top is golden brown.
(Sarah Lefebvre)
---
LUNCH SUGGESTIONS/RECIPES
Jelly;
Pinot Gris jelly goes well with cold chicken, either in a sandwich or on the side.
You'll love a sandwich of cold turkey, cream cheese and Cabernet/Merlot jelly.
All jellies are nice, just on a bagel with cream cheese.
Serve Cabernet/Merlot jelly as an accompaniment to paté.
PORT WINE JELLY PECAN COOKIES
2 cups all purpose flour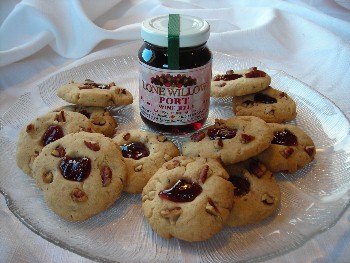 1 cup pecan pieces, chopped
1/2 tsp ground cinnamon
1/4 tsp ground allspice
1 cup butter, softened
1/2 cup packed brown sugar
1 tsps vanilla
1/3 cup Lone Willow Port wine jelly
Preheat oven to 350F. Mix flour, half of the pecans, and the spices into a medium bowl. Beat butter with mixer in large bowl until smooth. Slowly beat in sugar and vanilla and increase speed until mixture is light and fluffy. Beat in flour mixture at low speed just until blended. Form into 1 inch balls, press with the palm of your hand and place on ungreased cookie sheet. Press down with thumb in centre of ball and pinch together any cracks in the dough. Place or sprinkle remaining pecans on the top of the cookies. Bake 10 minutes, remove from oven and place 1/4 to 1/3 tsp of Port Wine Jelly in the thumbprint in the centre of the cookie. Bake for an additional 3 to 5 minutes. Let cookies stand on the cookie sheet for 5 minutes before transferring to a rack to cool completely. Makes about 2 dozen 2 inch cookies.
(Sarah Lefebvre)
---
WINE JELLY IS AN EXCELLENT ADDITION TO ANY CHARCUTERIE PLATE.
---
DINNER SUGGESTIONS/RECIPES
Jelly;
For a real treat, have Hot'n Sassy or Pinot Gris jelly with roast chicken, lamb, or pork
Serve Cabernet/Merlot or Port jelly with roast turkey or game.
Add a spoon of Pinot Gris jelly to veggies before serving. This adds a nice touch.
Heat Pinot Gris jelly for 20 seconds in the micro, or until it becomes a syrup. Blended with your favourite mustard, this makes an excellent sauce for ham. To spruce up your ham, glaze it with Cabernet/Merlot or Rosé jelly.
WINE JELLY STUFFED CHICKEN

Mix Pinot Gris Wine Jelly with goat cheese until a nice consistent mixture. Slice into the meaty end of a chicken breast and carefully create a pocket in the middle. Fill the pocket with the cheese mixture. Wrap the stuffed breast in phyllo and bake. For another treat, I sautéed some chicken in Pinot Gris Jelly which I then mixed into a chicken and pea risotto which also had Pinot Gris Jelly added to it.
(Kelly, a Calgary customer)
PINOT GRIS WINE JELLY BAKED CARROTS

4 large carrots, peeled and sliced
1/4 cup of Lone Willow Pinot Gris Wine Jelly
1 tsp thyme (dry or fresh)
1/4 tsp cumin seeds, crushed
2 tbsp margarine
Preheat oven to 425F. Mix all ingredients in a shallow baking dish, add salt and pepper to taste. Cover dish and bake for 40 minutes or until carrots are to your liking. Enjoy,
(Sarah Lefebvre)
caB-B-Q sauce (a great barbeque sauce)

1- 125 ml jar of Cabernet/Merlot Wine Jelly
1- 156 ml can of tomato paste
1 tsp Worchestershire Sauce
1/2 tsp salt
Whisk until blended and keep refrigerated
(Maurice Lefebvre)
---
DESSERT SUGGESTIONS/RECIPES
Jelly;
Finish your day with a glass of port, a piece of your favourite cheese, and a touch of Cabernet/Merlot or Port Jelly
Melt any jelly in the micro and pour it over plain cheesecake, it will re-gel once it's cool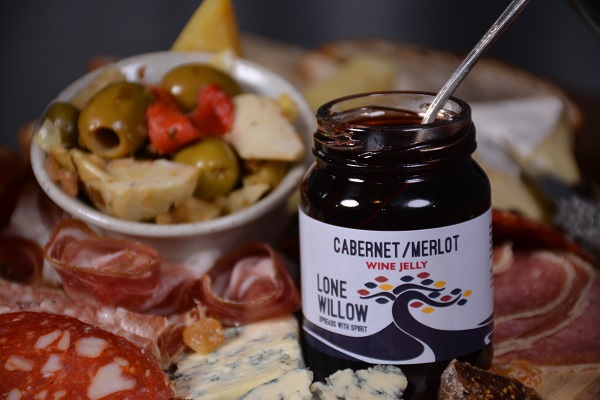 ASIAGO/BLUE CHEESE MINI PIZZA WITH CARMELIZED PEAR

1 package of Pillsbury Jumbo Croissants
1 Package of Asiago Cheese
3-4 Tbsp of Sun dried Tomato Spread
2 firm pears sliced thinly
1-2 Tbsp butter
1 Tsp sugar
2-3 Tbsp Pinot Gris Wine Jelly
Pre Heat oven to 375F 1. In a saucepan, melt butter and sugar together over a medium high heat. When butter mixture is melted, put in sliced pears and sauté. Add wine jelly and continue to stir until pear is caramelized.( a few minutes) Remove from heat and let sit. 2. Open package of Jumbo Croissants, layout triangle shapes together into a 9x13 lasagna pan. Pinch together edges 3. Spread mixture(2 tbsp cream cheese, 1 tbsp mayo, 1 tbsp sundried tomato spread) thinly on dough 4. Layout sliced blue cheese on the dough leaving some space between, then crumble Asiago Cheese in between spaces, on top or wherever space allows for it. 5. Layout caramelized pears on top of cheese pizza in an arrangement. Pour any excess juice evenly over the pear topping. 7. Bake in 375F oven until bubbles or golden brown. Serve warm or cold.
Variations: Feta cheese makes for a nice mixture. A triple cheese pear pizza! Using a second cylinder of croissants makes for a larger size pizza. Double the other ingredients.
(Peggy Tooley)
PEARS IN PUFF PASTRY
1 pkg. Puff Pastry (contains 2 blocks)
2 firm Bosc pears
about 6 oz. crumbled Stilton cheese
2/3 cup chopped pecans
3/4 cup dried Cranberries
1 jar of Wine Jelly
Thaw pastry according to package. Roll out enough to cover a cookie sheet (about 1 3/4 blocks). Spread Wine Jelly (Port or Cabernet/Merlot is best) on middle 1/3 of pastry, the long way down the cookie sheet. Sprinkle with 1/2 of the Stilton cheese, and then arrange pear slices on top. Distribute pecans and Cranberries over the pear slices and top with the remaining Stilton. Cut pastry to within 1" of filling at 45 degree angles at about 3/4" intervals. Interlace pastry strips over filling and crimp ends to close in filling. Bake at 350F for about 20 minutes or until brown. Serve and enjoy.
(an Edmonton customer)
---
COCKTAILS
Lone Willow Quarantini
2 oz Gin
3/4 oz Apperol
3/4 oz Hot'n Saucy Hot Sauce
Serve over ice, Enjoy!!
Do you like a RUSTY NAIL?, then you'll love a HOT NAIL
1/2 oz Hot'n Saucy Hot Sauce
1 oz Drambuie
2 oz Spiced Rum
Stir well and serve over ice, Enjoy!!
---